Waves Boat Club - A Sarasota Boating Treasure
I don't own a boat, and truthfully don't know very much about the nautical sports. But today, thanks to the friendly folks at Waves Boat Club I took my family boating, and we had a blast. With easy access to the Gulf and the IntraCoastal Waterway spanning the entire Manatee and Sarasota county area (and beyond) Sarasota is a boater's paradise. However, for many people (including myself), boat ownership is either not practical or out of reach financially. This where a boat club like Waves Boat Club fits in. For a fraction of the cost of owning a boat, you can have access to dozens of boats of all kinds, from fishing boats to speed boats to sailboats. And you don't have to worry about storage, maintenance or cleanup.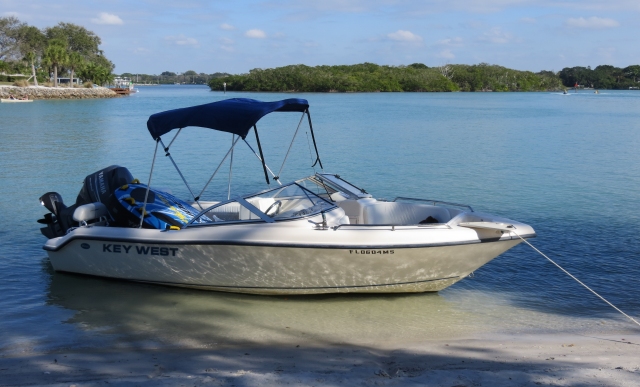 Our day of boating started when we showed up for our appointment at the new Fisherman's Wharf location in Venice. I found getting in and out of the docks very easy, with a lot of clearance in every direction, including water depth, which is great for someone like me who doesn't go out often and needs all the margin for error that I can get! The dockmaster Matt was there to greet us and had us on our way in about 5 minutes. Our boat for today would be the Venture, a 19' Bowrider with a 115 HP Engine. We brought along our inflatable tube for some fun as well as a picnic lunch.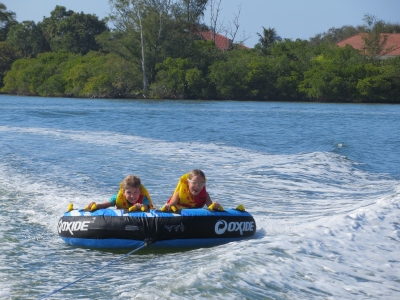 What's nice about the Venice location is that there is only a minimal distance through the "No Wake Zone", which means you can spend more time boating and less time crawling along. A few minutes away from the dock there is a designated watersports area, where the kids spent a great deal of time holding on for dear life, and grinning from ear to ear!! We had their uncle along on this trip, and he showed the kids how to jump the wakes (which they will not be doing anytime soon!).
After tubing for a while, we stopped at Snake Island for a picnic lunch. We beached the boat on the east side of the island and jumped onto the shore, cooler in tow. There are a few picnic tables, a beach area, some interesting fallen trees and some paths through the forested area of the island. It's small, but packed with fun things to do — perfect for entertaining kids without worrying about them getting lost.
After eating lunch and doing some exploring we hopped back in the boat and headed towards the Gulf through the Venice Jetty. On both sides were people fishing and enjoying the beatiful weather. Once we got into the Gulf we headed south. It was a calm day so we just cruised down for a while, past Sharky's Restaurant. There are always plenty of fisherman trying to catch their lunch off the 600 foot long pier. We gave them a wide berth so we didn't scare the fish away.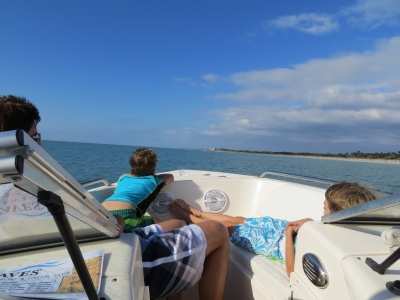 On the way back, I let James take a turn at the wheel while I relaxed in the bow with the kids.
After doing a few more rounds of tubing, we gassed up at the Crow's Nest Marina Restaurant. It was nice and easy to approach the dock, and we didn't have to raise the engine due to the depth of the water. The attendant was on the dock when we arrived, and grabbed our throw line and tied us off.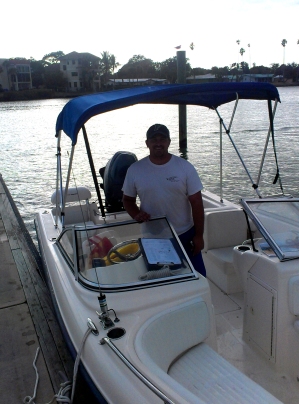 After fueling we then made our way back to the Waves Boat Club dock, where Matt was there to help us dock, although getting into any of the floating docks is a breeze. Then my favorite part of our boating experience...letting someone else do the cleanup
. We were able to enjoy our day of boating then simply dock it, collect our stuff, get in our car and go. Just be sure to tip your dockmaster generously!
Waves Boat Club is great because you get all the pleasure of boating without any of the headaches. Boat ownership is something I never would have considered, but with a boat club you can choose from many different sizes and styles, depending on your activities and the number of people you're bringing along with you. I would highly recommend it to anyone interested in boating. To contact Waves Boat Club, visit their website or give them a call at (941) 408-5171.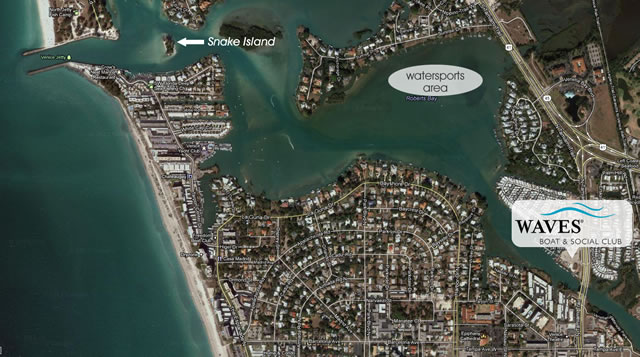 ---