10th Annual New Balance Ringling Bridge Run
A couple weekends ago, I had the pleasure (of a masochistic sort) of participating in the Annual Ringling Bridge Run, sponsored by New Balance. It's a 4-mile run that takes you over the landmark Ringling Bridge (twice). This year there were close to 3,000 runners, joggers and walkers who took part in the occasion. There was a wide variety of skill level represented, and I saw quite a few families sharing the experience together.
I arrived at the Van Wezel Auditorium at 6:30am to secure a parking spot. There were stations set up for food, drinks, registration, activities for kids, car key/bag check (courtesy of Mommy Magazine), and perhaps most importantly, a row of port-a-potties which got plenty of action in the hour leading up to the run.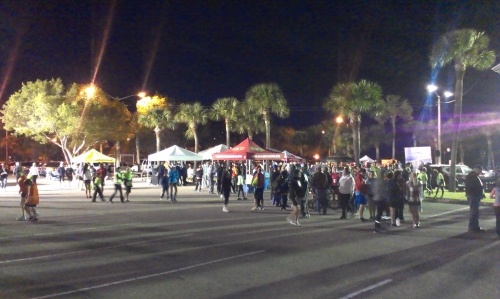 It was rather chilly before the sun came out, but that ended up being a good thing, as it ended up being high 50's by the time the race got under way, which is a perfect temperature for running. As the start time drew near the excitement was palpable, as almost 3,000 people gathered at the start line, organized loosely by running pace (7-minute mile, 8-minute mile, 9-minute mile, with walkers in the rear). The national anthem was sung, and the MetLife blimp hovered above. And finally, the countdown began...and we were off!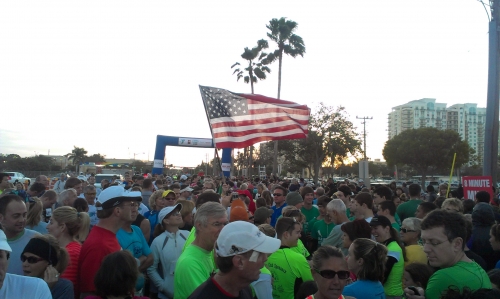 This was my first race, and the adrenaline kicked into high gear fueled by the excitement of the crowd. I had to force myself to keep my pre-determined pace, lest I lose steam later on. It seemed only moments before the 1 mile marker came and went, and we made the turn towards St. Armand's Circle and the Ringling Bridge. My goal was to not stop running the entire time, so that meant no walking up the bridge. I had only run flat terrain in my training, so I wasn't sure how I would fare. I decided to take a picture on the bridge, so I fumbled with my phone while I was running, and by the time I took the picture and got my phone put back away I was near the top. I guess the distraction helped me through! As I reached the top we saw the pace vehicle and the front-runners making their way back, to the cheers of us still on our way to the halfway point.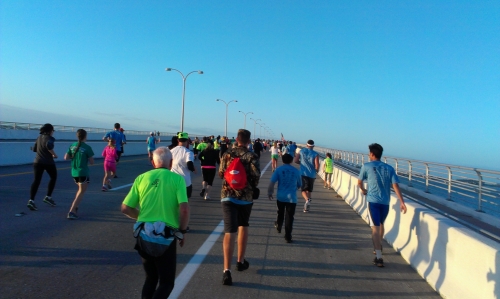 The turn around was immediately after the bridge, in the parking lot at Bayfront Park. There were volunteers with water for the runners. It being a shorter run I opted to pass on the water. Then we had to make our way back up the bridge for the second pass. This time I left my phone in my pocket, and focused on running. Somehow it felt about three times as long as the first ascent, but eventually I made it (without walking!!), and then let gravity work for me the way down. With the Ringling Bridge in my tailview mirror (figuratively) I picked up the pace for the last mile.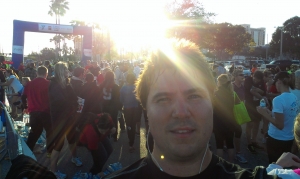 At this point the positioning didn't change much, as everyone in my vicinity was running close to the same pace. I ended up crossing the finish line in a little over 33 minutes, which I was happy about considering I had just started running in the fall of 2012.
Sarasota is a vibrant community with a strong, healthy vibe of physical fitness and outdoor activity. There are plenty of resources for runners, cyclists and swimmers, as well as numerous fitness facilities. You can definitely find a place, as well as plenty of support and resources, for whatever your fitness level and goals are. This race was a great experience for my intro into the world of running, and I've already signed up for a 10K in February and a half-marathon in March, as well as a mini-triathlon this Sunday. Ambitious? Perhaps. But a whole lot of fun. I'd encourage anyone who is thinking about doing it to stop thinking and get going. You'll be surprised what you can accomplish and how rewarding it can be. See you out there!
---