A Tale Of Two Sites
Among my recent clients are two very different businesses with very different stories, yet the common thread between them is a love for this great city of ours.
To quote a recent article in Lux Magazine, "when major business deals have to be finalized in Sarasota, there is a good chance George Mazzarantani will be involved". George H. Mazzarantani, P.A. has been in business in Sarasota as a business and real estate lawyer for over 15 years, and has had a hand in many of the dealings that have contributed to the business and cultural landscape of the community, including the expansion of a Publix warehouse, the new 2 story Publix store in downtown, launching a new dock and boat for Riverview High School (for which he found a donor to make it happen) and the relocation of Soicher-Marin from California to Florida. Mazzarantani has also played the role of angel investor, seeking opportunities for growth and development within the community and the region. In 2001 he helped Startup Florida get off its feet, and plays an intermediary role between angel investors and companies in need of funds. While he personally maintains a relatively low profile, his fingerprints are all over Sarasota.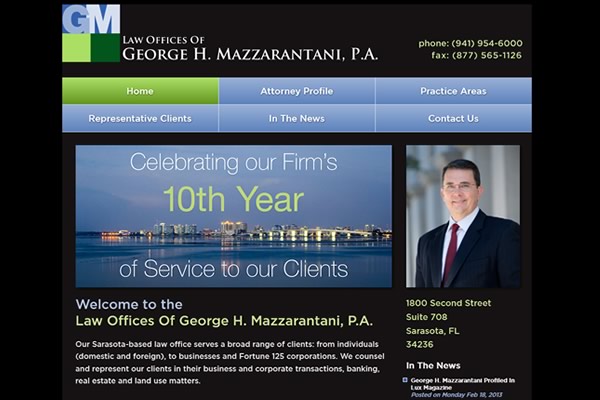 On the other end of the spectrum we have Vintage Modern Home, a home design boutique located in the heart of Sarasota on Pineapple Avenue near Burns Square. Vintage Modern Home was opened by Scott Hill and Arthur Johnson, who moved to Sarasota within the last year and, like so many others, fell in love with the city and the rich tapestry of culture and art that it offers. Although new to Sarasota, they bring a combined 50 of expertise in architecture, interior design and construction. They have designed for such world-renowned companies such as Neiman Marcus, Macy's, W Hotel Group and Mercedez Benz, and one step inside their boutique will convince you of both the quality and elegance of their furniture, each one a piece of art.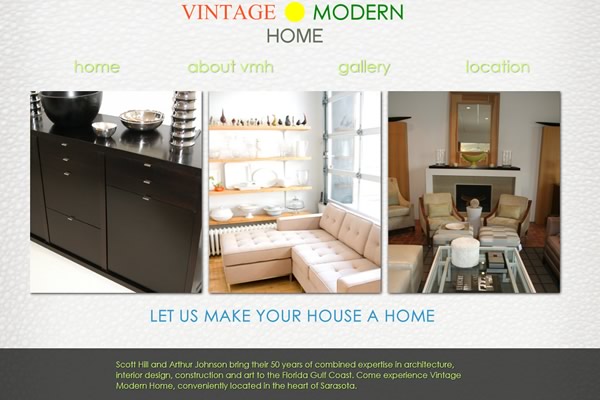 While both of these businesses hail from different backgrounds, serve different purposes and have vastly different offerings, they are the same in that they are connected to the city of Sarasota, and are personally and professionally invested in making it a better place to live and do business. Without these businesses, and many others like them, Sarasota would not be what it is today. These are two examples of unique and essential pieces in the cultural mosaic of Sarasota, Florida, and I am privileged to partner with them as they take the next step in their personal and professional journeys.
---