Hear Ye! Hear Ye! Sarasota Medieval Fair Coming In November
We are happy to launch a brand new site re-design for the Sarasota Medieval Fair, now gearing up for it's 10th anniversary fair. Each year, thousands of Sarasota area residents don their medieval garb and step back in time for 3 glorious weekends of festivities that include jousting, human chess, shows, games and food. This year the Fair will take place on November 9-10, 16-17, and 23-24. Participants can purchase daily tickets or a season pass to gain unlimited access. This is surely a unique event not to be missed!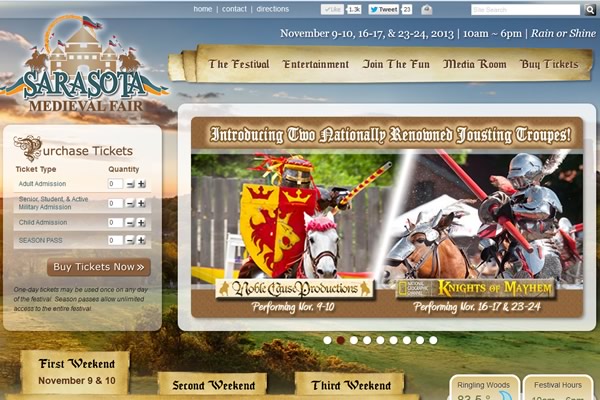 This is probably the most unique and whimsical site that Sarasota Web Design has undertaken, and we are happy to be a part of such a fun, family-friendly Sarasota event. We look forward to participating this year and are honored that the directors of the Sarasota Medieval Fair entrusted Sarasota Web Design with their new site. See you at the festival, Huzzah!
---